Trained Detection Guard Dogs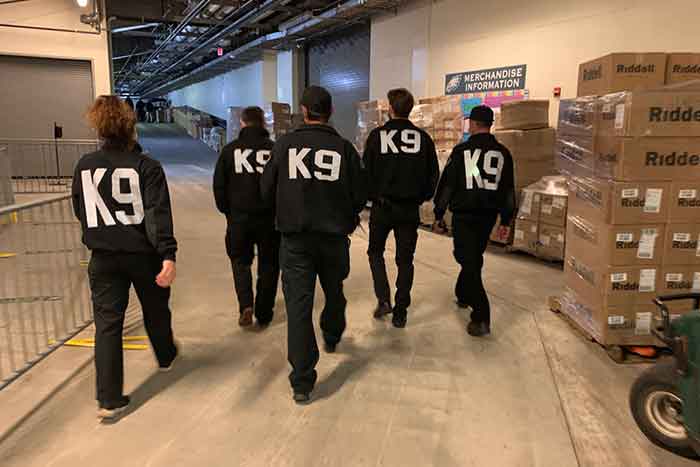 About Our Team
The 3DK9 team is an honest and reliable task force comprised of professional dogs, trainers and handlers. Our team has many years of experience working with service dogs, as well as extensive military, law enforcement and event security experience.
Additionally, our dog team is a skilled force of K9 service dogs who undergo rigorous training to maintain their skills. We train our dogs regularly and variably to ensure they're providing accurate and precise services, but also to maintain an outstanding relationship between the dog and handler.
During training, our dogs learn how to maintain composure until a threat is evident. This way, they can reduce an innocent individual's anxiety while still offering precise and skillful protection services.
Types of Dog Protection and Event Services
Our dog detection services are available to a number of individuals and businesses. Whether you're a high-profile individual who needs a detail or a venue manager who needs help with event security and crowd control, our team is ready to help. We also offer our protection services to any facility nationwide, including:
Schools
Event Venues
Private Residences
Businesses
Airports
No matter where you need our services, our team is ready to fly anywhere within the United States to assist.
Collaborative Protection and Event Services
In order to offer the best dog protection services possible, we work with local law enforcement, event security staff, security details, and transportation officials to ensure a safe environment. Also, our services are always compliant with local, state, and national laws. This way, you can rest assured that our services are providing you with the highest quality of safety possible.
Take the First Step in Protecting Whats Important To You By Learning About 3DK9.
Defend, Detect and Deter
The three D's of 3DK9 are defend, detect and deter. Our mission is to provide effective, realistic, and well-planned services to any individual or organization that has concerns about safety. There are many threats to citizens' well-beings and livelihoods, so we offer an array of dog services to give everyone peace of mind. In addition to our dog protection services, 3DK9 offers:
No matter what kind of dog and canine services you need, 3DK9 is here to help. Call us today at 855-561-3647 to learn more about our team and how we can help you.