Patrol & Protection Dogs Backed by Premium Detection Dog Training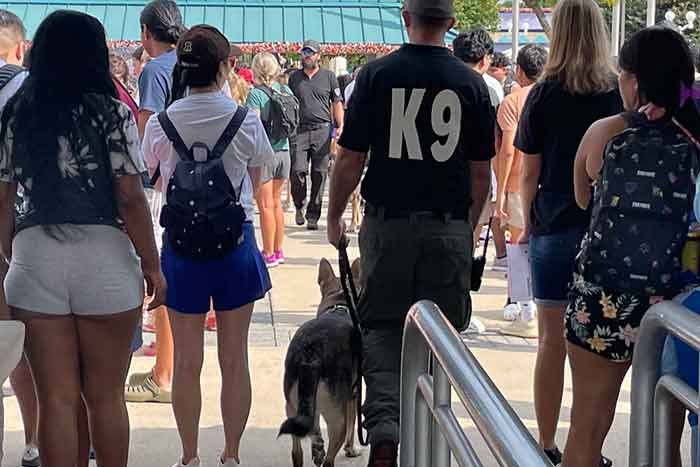 The 3DK9 team is a diverse force of expertly-trained protection dogs, handlers and trainers with a mission to provide premium professional security services. With many years of military and law enforcement training, our security dogs boast an impressive roster of skills and services. We glady provide any references to effectively showcase our companies abilities.
About Our Dogs
3DK9 employs a large team of search dogs for hire who specialize in a variety of detection and deterrence skills. Each of our dogs possesses a keen sense of detection, tracking, area protection, patrol, search and rescue, and other services.
Detection Dog Training
We train our security and protection dogs regularly to keep them at the top of their game. Our detection dog training includes both standard drills and real-life scenarios. During some of our exercises, we put our dogs in a real environment, such as a home or office, and have them practice detection. Having these kinds of authentic experiences ensures that our security dogs won't get distracted by other objects or people in active detection scenarios.
What Can Our Detection & Search Dogs for Hire Smell?
Our K9 detection team can sniff out a range of narcotics, weapons, explosives and even bed bugs. Additionally, our training ensures they're up-to-date on the latest drug and technology detection skills, which ensures that they provide accurate and reliable services to all of our clients
Take the First Step in Protecting Assets by Learning About 3DK9.
Professional Patrol Services
The 3DK9 dogs and team provide exemplary services for individuals who need added security at their home, business or event. We believe that everyone deserves to work, live and enjoy themselves in an environment where they feel safe. The presence of narcotics, dangerous contraband and explosives threatens that safety. With 3DK9's professional security services, you can rest assured that your environment is safe and sound.
Our training allows our dogs to offer a number of canine patrol and protection services, including:
We're here to protect our 3DK9 clients and secure the following sectors:
Residential
Commercial
Government