Canine Patrol Services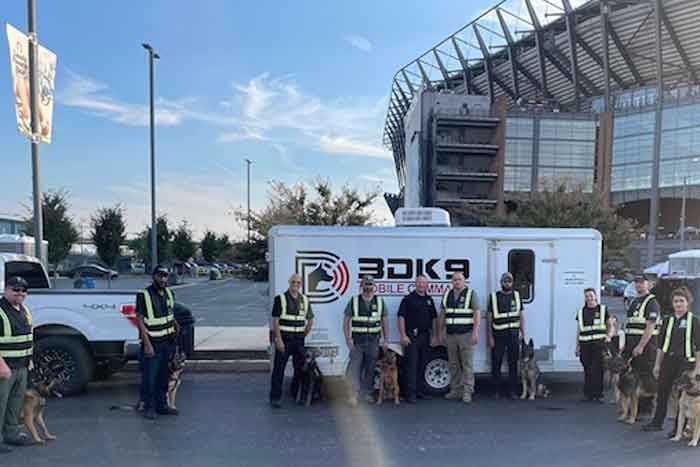 We live in a world of uncertainty where random acts of violence and the spread of addictive substances are constant threats. In 2018, 1.21 million violent crimes and more than 31,000 overdoses occurred in the U.S. With these prominent risks endangering the lives of innocent citizens, taking appropriate steps to protect the public is crucial. We offer honest, reliable and comprehensive canine services in detection and protection to help keep you, your family and your coworkers safe.
Our Canine Detection Mission
3DK9 provides effective canine patrol services to protect and defend against these raging threats. We believe everyone has the right to a safe and secure environment. Our team of dogs and handlers are highly trained to provide canine detection and patrol services in homes, schools and work environments.
How Our Canine Detection & Patrol Services Operate
To provide the highest quality canine detection services, 3DK9 coaches all of its dogs and handlers to be at the top of their game. We give them extensive training so they can easily handle any situation, from a one-on-one interaction to a crowded venue. No matter the circumstances, we ensure the highest quality of canine services.
Dog Protection Services Provided by 3dk9
After thorough training, our dogs are prepared to meet the needs of our customers through premium canine detection. Our most common services include:
Narcotic Detection
Our dogs are experts at detecting a range of narcotics. Narcotics detection helps achieve a drug-free workplace, residence or event.
Explosive Detection
The dogs on our teams can identify many types of explosives in a quick and discreet manner. We often implement our explosive detection services in airports, schools, event venues and other public spaces.
Additional Contraband Detection
We realize no two clients of ours are ever the same. For example, many of them prohibit certain items like food, tobacco and alcohol. We train our dogs in contraband detection for these instances. They're highly qualified to locate unique items like these in a quick, discreet manner.
For A Free Consult on Patrol Contact 3DK9.
Achieve a Secure, Drug-free Environment With Canine Detection From 3dk9
For top-quality security and detection, look no further than 3DK9. Along with providing premium canine services, we'll travel to wherever you need us to be, and we'll work in tandem with law enforcement. We're dedicated to protecting you and your loved ones from the dangers of violence and substances. Our canine detection services are here to assist the following sectors:
Residential
Commercial
Government
Contact us to speak to one of our experts and start protecting your residence, business or facility from danger. We look forward to providing you with premium canine services and the utmost peace of mind.