About 3DK9 Detection Services
At 3DK9, we believe everyone has the right to a safe and secure environment. Whether that environment is your home, school, workplace or business, no one should have to live in fear. That's why we are dedicated to providing effective and accurate dog security services for all of your needs. Our canine detection services are here to ensure safety and provide peace of mind for you and your loved ones.
We provide explosive, weapon, and narcotic sweeps to businesses across the USA. Our highly trained teams are capable of providing world class services while integrating easily into your operations.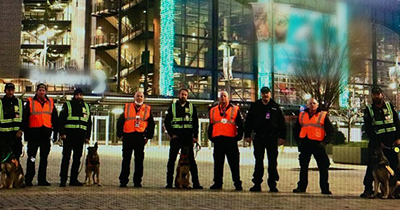 "Straight and Narrow, one of the largest drug and alcohol rehabilitation centers in New Jersey regularly utilizes the K9 drug dog services for all levels of our programs to provide a safe and drug-free environment for both staff and clients. Since the beginning, we have experienced a truly professional approach by 3DK9. Their availability and flexibility has allowed the agency to coordinate the K9 inspections to meet our vast needs. We have been provided with staff education and professional guidelines to assist in developing our policy and procedures related to the inspections. It is unfortunate that currently during a major opioid epidemic that our program needs to go to the level of K9 drug dog inspections, however it is our reality and I am grateful to have Mark and his team working with us." – Dr. Sam Pirozzi, Executive Director
Take the First Step in Protecting Your Loved Ones by Learning About 3DK9.
A Skilled Team Backed by Premium Canine Patrol Training
3DK9 is formed by a team of dogs, trainers and handlers devoted to delivering honest and reliable services. Many of our team members even have experience working with and training canines in the military or police K9 forces.
Our team is driven by a common goal — to always put your safety first. Our narcotics dogs and handlers undergo frequent, high-quality police K9 training. This gives them the skills to quickly adapt to new situations and detect a range of narcotics and drug paraphernalia. Whether these scenarios involve one-on-one interactions or large crowded venues, all of our dogs are well-mannered, environmentally aware and focused.
Quality Dog Patrol Services
Our most common dog patrol services include but are not limited to:
Get Canine Protection & Detection You Can Rely on With 3DK9
When you choose 3DK9, you get the very best in safety and canine detection. Our dedicated and highly trained teams of narcotics dogs, trainers and handlers have the necessary skills and qualifications to help you tackle any precarious situation. Don't let dangerous individuals and substances harm your loved ones. Contact us today to speak to one of our experts about our canine detection services and start protecting your loved ones. We look forward to being your allies who defend, detect and deter.